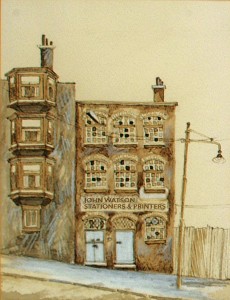 John Watson and Company is one of Scotland's most iconic businesses and, incredibly, can trace its history back more than 200 years.
It has been printing continuously since 1820, surviving economic downturns, the Great Depression and Two World Wars.
It is thanks in no small part to the guidance and vision of the generations of Watson family members who have steered it to such success.
Originally based in a run-down tenement in Black Street, "Watsons" as it is affectionately known by so many customers also had a retail presence in St Vincent Place – scene of a dramatic tram crash which hit the headlines.
It was when John Watson took over in 1976 that the business really started to make its presence felt on the global stage.
It was his clever decision to diversify more fully into label printing that sealed the future success of the business. Commercial printing was under severe financial pressure and a drop in demand at home meant that a bigger move into label printing was required.
Had John Watson's remained entirely in commercial printing it would have been unable to grow at such a rapid pace and take advantage of worldwide demand for Scotch whisky labels.